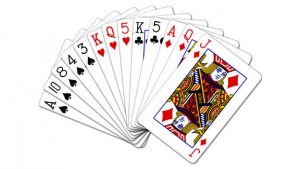 A new online bridge group has formed. If you enjoy a game of bridge, this might just be the answer.
If you have a computer, laptop, tablet or iPad this very informal social style of bridge will be played using Zoom & Bridge Base Online together. Cate Mitchell from the group at Wroughton says, "I believe it has exceeded all expectations. The combination of Zoom and BBO brings us all so close. It has been a wonderful way of getting our brains moving and at the same time we have been able to socialise and put the world to rights."
If you haven't played bridge since the start of the lockdown this is a good way to keep your hand in. For those that haven't played for a very long time you might also like to join in (simple crib sheets are available). If it is the Zoom set up that worries you, help to get going can be arranged – it really is quite simple.
If interested in taking part please get in touch with Cate Mitchell (below). We've got sufficient numbers to get started and it's working well. Don't worry if you don't have a partner; that too can be sorted.
Meets:
Mondays and Saturdays from 14:00 to 16:00
Venue:
Online via Zoom & Bridge Base Online
Contact Group Leader Cate Mitchell:
See below